Maybe you wish to use Whatsapp for your business because it is convenient and easy to use, but the fear of losing your files holds you back.
Maybe it is the best way to get in touch with friends and relatives.
One way or the other, your Whatsapp contains essential information that you might want to use in the future, and it would be a major blow if all the files, videos, and pictures get lost. However, with Whatsapp, you can backup all messages, pictures, videos, etc. Here is how you can go about it.
Backing up Messages.
Open your Whatsapp
Click on the menu icon that is on the top right corner of your Whatsapp display screen, it will direct you to options which are, New group, New broadcast, Whatsapp Web, Starred messages and then Settings.
Tap on Settings and it will direct you to another option that has a number of features.
Tap on Chats then on that new platform check, for chat backup.
Click on Back up to Google Drive then select the frequency on which you want your information to back up.
There are 5 options that you can select on, its either you can back up on a daily basis, weekly or monthly.
Steps to follow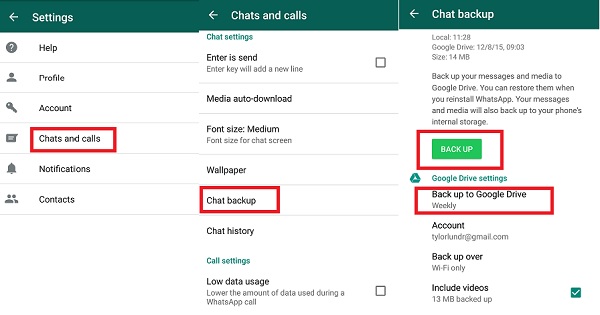 Android WhatsApp app uses Google Drive to back up and restore information.
Google Drive is the best way to backup Whatsapp messages, you can change from one Android phone to another and can still retrieve your old messages.
With Google Drive, you are assured that even if you uninstall your Whatsapp and reinstall, you can still have your images, videos, and messages intact.
Note:  Each new automatic backup to Google Drive overwrites the last one. If you delete one item by mistake, you have to revive your messages before the next backup replaces the one you need.