You might be wondering how someone with the same ordinary Whatsapp as yours can hide his blue ticks, status views among other tricks.
Most people think the Whatsapp hacks on hiding blue ticks, status views are for unofficial Whatsapps only.
This article is going to review the magic behind disabling blue ticks and hiding the status view.
How to disable blue ticks.
Obviously these tricks can be worked on an installed Whatsapp.
After installing your Whatsapp there is a menu bar that is at the top right corner, it comprises three dots.
Click on the menu bar, select Settings. You are then directed a platform with a number of settings features-tap on Privacy.
On the privacy settings tap on Read receipts then turn it off.
After turning it off you can celebrate you would have disabled blue ticks.
This trick somehow saves you from the stress of checking on who has read your messages or not.
This feature disables blue ticks on both sides, you will never know if the other contact has opened your message and the other contact will not know either.
How it is done: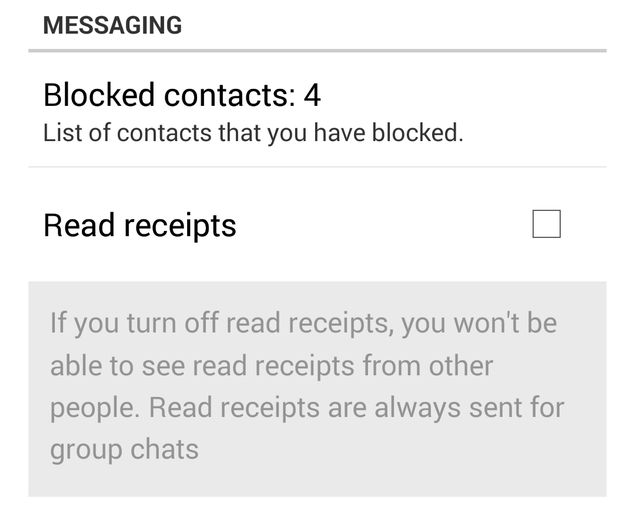 Hiding Status View
The above explanation also applies on Status view.
Once the  Read receipts feature is activated it also hides your Status view.
Hence you can view one's status without them noticing it.
However, you will not be able to check your status viewers, if you turn off your read receipt.
But since these are tricks we're discussing here, we can always find ways to go about it.
The simple trick here is to turn off your read receipt before you check their status.
Then after that, turn it on after you are done viewing theirs.
This hack can also be applied on blue ticks, you can deactivate the feature Read receipt when you are about to reply then blue ticks will be activated.
Thanks to the Read receipt feature, now you can make use of your ordinary Whatsapp shake things up.